---
5% Best Price Guarantee
If you find a cheaper price, we will beat it by 5%*
- Applies to any cheaper price found in New Zealand.
- When the competitor's final price inclusive of any taxes and delivery fees.
- Excludes Garmin products, other exclusions apply.
Check available shipping methods
Click & Collect Available
• Pick-up In-store in 1-2 days* • Only available on items already in-stock at your local store  More info »
Courier Delivery Available
• $6.99 for orders $99 & under • Free for orders over $99 • $59.99 for bikes & bulky items • Bikes will be delivered boxed More info »
The CR300 is a compact headlight with a 300-lumen output, perfect for urban riding and daily commuting. It's Ravemen patented DualLens optical design means the CR300 illuminates the road ahead with an even-distributed flood light and has no dazzle effect to oncoming riders and pedestrians. Using the wired remote button you can change the brightness levels safely, without having to release your grip. The quick release button is convenient for daily use, while the compact design, IPX6 water resistance and durable anodized aluminum body mean the CR300 is ready for extreme weather conditions.
| | |
| --- | --- |
| Battery: | 1LG LED - 1500m/Ah/3.7V rechargeable lithion-ion battery, Micro USB charging port |
| Features: | Durable anodized aluminum body, IPX6 water resistance / DuaLens optical designed low beam, providing anti-glare broad light, no dazzle / Wired remote button for use without releasing the grip / Built-in battery indicator and charging indicator / Micro USB charging port / Quick release design |
| Handlebar: | Compatible with handlebars 22.2mm to 35mm diameter |
| Light(s): | Built-in battery indicator and charging indicator |
| Weight: | 92g / Dimensions: 83.5mm x 29mm x 32mm |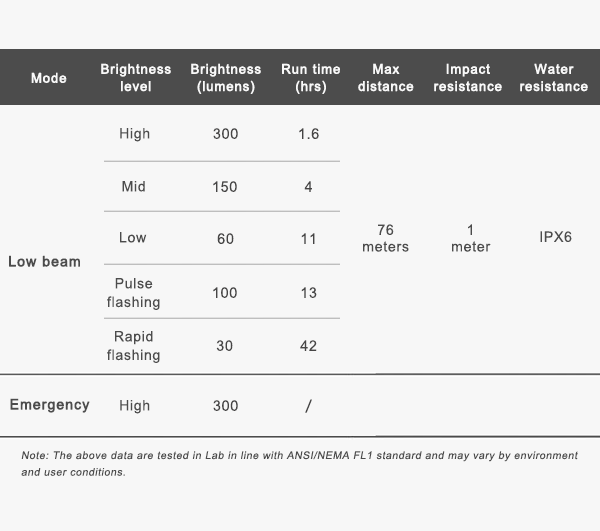 Ravemen is derived from a passion for bike riding and concern for bike riders as well as others safety. Coming from different areas of the bicycle industry and being biking enthusiasts, engaging in night riding is quite normal for Ravemen staff. Then noticed most of the high-output bike lights on the market have no anti-glare capability, which is dangerous to oncoming traffic, and as a result places them at risk. Based on such perception and being inspired by automotive headlights, using that idea in bike lights came into mind. Combining high quality and durable material with innovative design, along with concern for riders and others safety which has been fused into their genes, Ravemen promise each product will not only be reliable and easy to use to improve your riding experience, but also a trusted companion that will earn respect from others.