---
5% Best Price Guarantee
If you find a cheaper price, we will beat it by 5%*
- Applies to any cheaper price found in New Zealand.
- When the competitor's final price inclusive of any taxes and delivery fees.
- Excludes Garmin products, other exclusions apply.
Check available shipping methods
Click & Collect Available
• Pick-up In-store in 1-2 days* • Only available on items already in-stock at your local store  More info »
No Courier Delivery
• This item is unavailable to be shipped with a courier More info »
Perfect Ride Guarantee
If you don't love it, you can swap it, up to 30 days from purchase!* Learn more »
Free Bike Build
We'll build your bike for free when you click and collect at any 99 Bikes store.
First Free Tune-up
Every bike come with a complimentary free tune-up and safety check. Learn more »
Please note, due to challenges in the product supply chain, bike specifications are subject to change without notice. Specifications listed below may not match exactly as shown in the photo.
A perfect blend of comfort and all-round functionality. The Crossway is suitable for fitness training, commuting and leisurely rides. With a frame made from high quality lightweight 6061 double butted aluminium and featuring hydraulic disc brakes for increased braking performance in wet and muddy conditions. The 60mm travel lockout front suspension will iron out any bumps on the way. The adjustable stem allows the rider to adapt the Bike to their most comfortable riding position and these Bikes are loaded with smart features; like factory standard reflective strips on the sidewalls of their tyres, improving visibility on the road and all Crossways are already setup to easily mount mudguards, racks and kickstands. The Crossway is the perfect choice for everyday riding.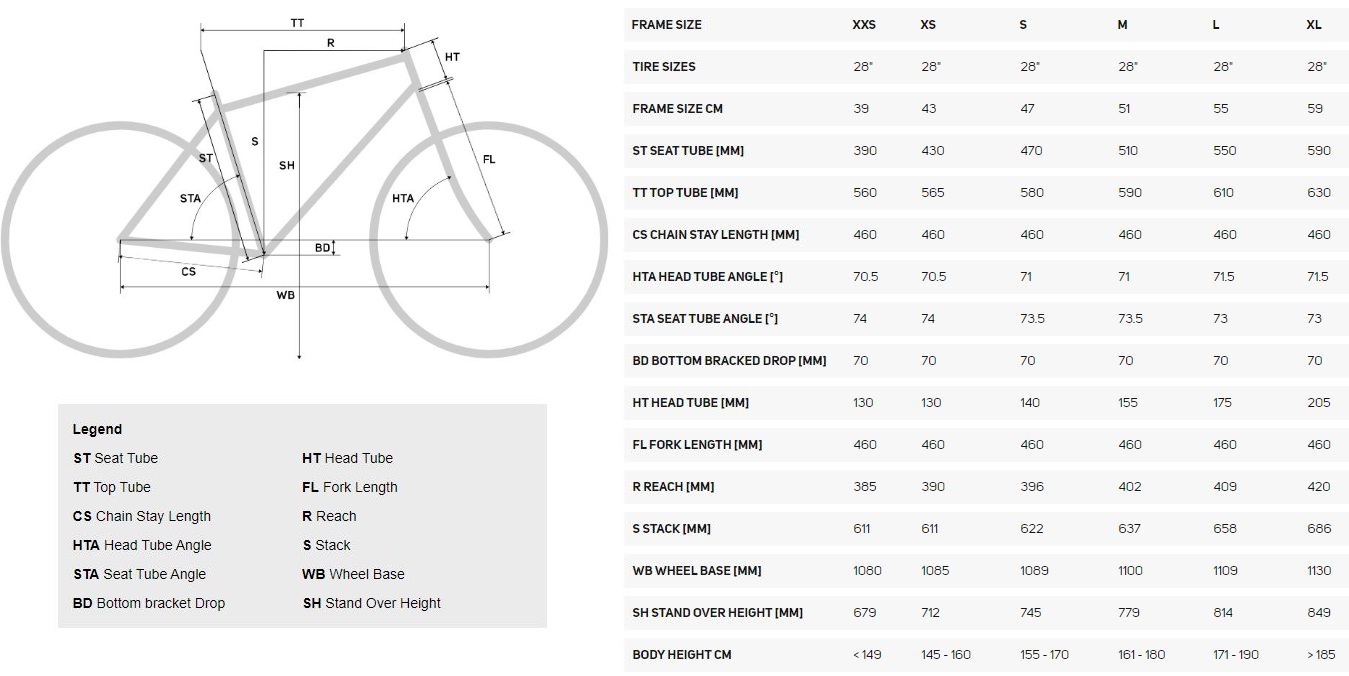 Merida Crossway Bike Sizing Chart
Merida is an international bike brand with its headquarters in Taiwan, the R&D department is based near Stuttgart in Germany. To be based in Germany has historical reasons for MERIDA but the precise location was chosen specifically because the region around Stuttgart is one of the hot spots of the automotive and machine building industry which Germany is famous for and attracts a hugely skilled design and engineer labor force.
The Merida team are more than just highly trained and experienced bicycle creators – they simply love everything 'bike'. Most of their R&D staff are daily bike commuters while others are serious mountain bikers, who regularly compete in Marathon, Enduro and Downhill competitions, or licensed road racers and even ambitious Ironman triathletes. Get the behind the scenes view of the Merida R&D centre and meet some of their key members of staff in the below video.