---
5% Best Price Guarantee
If you find a cheaper price, we will beat it by 5%*
- Applies to any cheaper price found in New Zealand.
- When the competitor's final price inclusive of any taxes and delivery fees.
- Excludes Garmin products, other exclusions apply.
Check available shipping methods
Click & Collect Available
• Pick-up In-store in 1-2 days* • Only available on items already in-stock at your local store  More info »
No Courier Delivery
• This item is unavailable to be shipped with a courier More info »
99 Bikes Home Delivery Available
Assembled Bikes delivered straight to your door • Available on all Bikes in Auckland & Christchurch • $29 flat rate More info »
Perfect Ride Guarantee
If you don't love it, you can swap it, up to 30 days from purchase!* Learn more »
Free Bike Build
We'll build your bike for free when you click and collect at any 99 Bikes store.
First Free Tune-up
Every bike come with a complimentary free tune-up and safety check. Learn more »
Please note, due to challenges in the product supply chain, bike specifications are subject to change without notice. Specifications listed below may not match exactly as shown in the photo.
Key Features
New light weight hydroformed alloy frame
Light weight alloy straight blade fork
Light weight hubs, alloy rims, alloy handlebars and stem
Super comfortable child-specific saddle and grips
Alloy quilled stem for maximum height adjustability
New light weight trainer wheels, with quick tool-free removal
Perfect for ages 3 - 6 years, 95 - 117 cm in height
Designed to build riding confidence and develop kids essential cycling skills, the new Neo+ 16 features a redesigned frame, using new hydroforming technology to produce a lighter weight bike, with refined top tube and down tube shapes specifically sized to suit the smaller frame size and better fit younger riders, while retaining the rear stays and functional foot rests of the previous generation. New lighter weight tool-free trainer wheels mean they're quick and easy to remove, for that big moment when they're ready to balance on their own! Light weight hubs, alloy rims, alloy handlebars, stem and rigid alloy fork, all work to reduce the overall weight of the bicycle, making it easier to ride. The super comfortable child-specific saddle and grips provide extended riding comfort and minimize slippage. With fresh new colors alongside the classic Neo bushed alloy finish, the Neo+ 16 is the ideal next step for kids aged 3 – 6 years, between 95 – 117 cm in height.
| | |
| --- | --- |
| Accessories: | New lightweight training wheels with tool-free assembly/removal |
| Bottom bracket: | Nutted bottom bracket |
| Brakes: | Short reach brake levers, coaster back pedal rear brake, alloy caliper pull front brake |
| Crankset: | 36T one piece crank |
| Fork: | Lightweight alloy 16" with 25.4mm straight blades |
| Frame: | Lightweight, easy to ride alloy kids frame, with low stand over height, new hydroformed tubes and streamline stays |
| Frame size: | 7.5in |
| Freewheel: | 18T sprocket |
| Grip: | Kraton grips |
| Handlebar: | Lightweight alloy low riser 500mm |
| Handlebar stem: | Alloy 2 bolt quill stem for improved adjustability |
| Pedals: | High impact plastic |
| Rim: | 16" alloy 28 hole rims with alloy front hub and coaster foot brake rear hub |
| Saddle: | Neo Comfortech youth saddle |
| Seat post: | 22.2mm alloy with quick release clamp |
| Tyre front: | 16" x 1.75" slick |
| Tyre rear: | 16" x 1.75" slick |
| Wheel size: | 16" |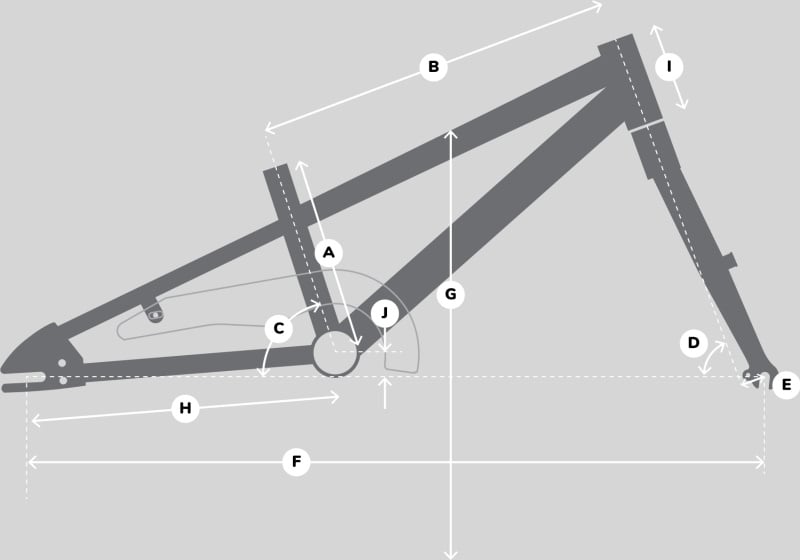 RECOMMENDED HEIGHT RANGE 95-117 cm
RECOMMENDED AGE RANGE 3-6 years
MIN. SADDLE HEIGHT (TO GROUND) 505
MAX. SADDLE HEIGHT (TO GROUND) 575
A - SEAT TUBE (CENTRE TO TOP) 195
B - TOP TUBE LENGTH 363
C - SEAT ANGLE 72.0°
D - HEAD ANGLE 70.0°
E - FORK RAKE 25
F - WHEEL BASE 738
G - STAND OVER HEIGHT (TOP TUBE TO GROUND) 440
H - CHAIN STAY LENGTH 310
I - HEAD TUBE LENGTH 90
J - BB DROP -25
DROPOUT SPACING 112
Kids Bike Sizing Chart
For over 30 years, Apollo has delivered bicycles to the Australian marketplace that are synonymous with performance, quality, and affordability. It is this reputation that has enabled Apollo to evolve into the Australian market leading brand it is today and expand into the international market.
Apollo offer a wide range of bike models to suit almost any riding application, no matter where your passion lies there is an Apollo bike designed for you. Apollo even have their own range of Neo kids bikes that are built to get kids riding on great bikes and enjoying the outdoors. Made to be lightweight and tough, with kid's specific components, and geometry options for Boy's and Girl's to ensure they get the most enjoyment out of their bike, from toddler to teenager.
Developed for the harsh and varied Australian conditions, Apollo bikes are suited to perform in the toughest terrains around the world, while offering great value, giving you excellent performance and reliability without breaking the bank, so that you and your family can enjoy all the bikes in the Apollo range with confidence for years to come.