---
5% Best Price Guarantee
If you find a cheaper price, we will beat it by 5%*
- Applies to any cheaper price found in New Zealand.
- When the competitor's final price inclusive of any taxes and delivery fees.
- Excludes Garmin products, other exclusions apply.
Check available shipping methods
Click & Collect Available
• Pick-up In-store in 1-2 days* • Only available on items already in-stock at your local store  More info »
Courier Delivery Available
• $6.99 for orders $99 & under • Free for orders over $99 • $59.99 for bikes & bulky items • Bikes will be delivered boxed More info »
PURE Exercise Recovery powder makes a premium, natural post-exercise drink containing a delicious blend of raw organic cacao powder, milk proteins and New Zealand honey powder. Designed to help your body recover faster while optimizing strength and fitness gains made during exercise, PURE Exercise Recovery assists muscle building and repair following exercise, each pouch contains 10 servings.

DIRECTIONS: Mix 7 scoops (included) with 400ml - 500ml of water. Shake well. Consume within 2 hours of mixing, or up to 24 hours if refrigerated.

RECOMMENDED USE: For optimal results use immediately after hard or prolonged exercise. Up to two serves per day.
| | |
| --- | --- |
| Features: | Designed for post endurance exercise recovery / Contains real New Zealand honey / 10 serves per pouch / 16g proteins per serve |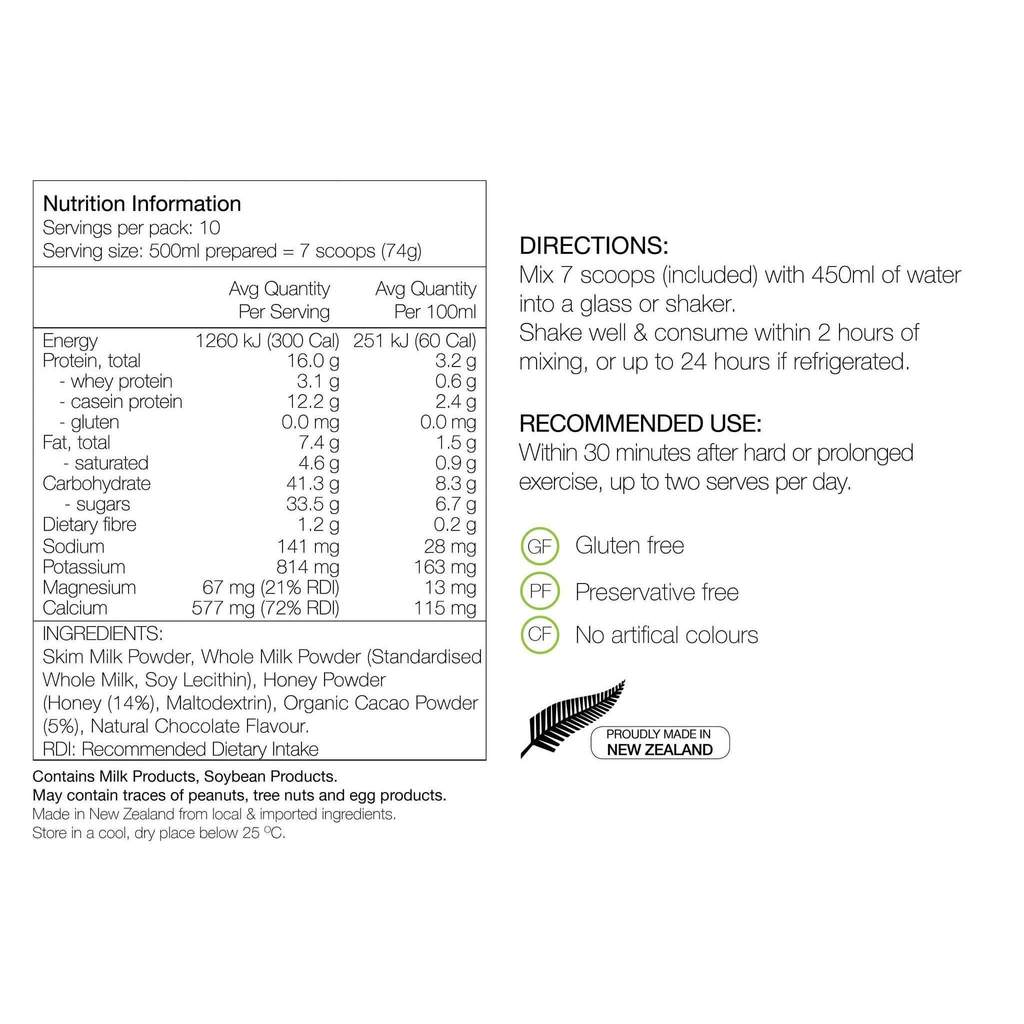 PURE Sports Nutrition was developed by brother and sister Simon & Marewa Kraak in 2012 after failing to find natural sports nutrition products.  Simon is a keen road cyclist and Marewa is a qualified Sports and Exercise Nutritionist, former New Zealand representative rower and elite road cyclist.  Both led fit and healthy lives but found it hard to get high quality, natural sports nutrition products to train and race with. The PURE Sports Nutrition range is proudly produced in New Zealand and has been designed with sports science in mind.  The PURE brand stands for high quality, natural products that work, containing no artificial ingredients or colours.  The range has grown to provide high-quality products before, during and after your workouts.