---
5% Best Price Guarantee
If you find a cheaper price, we will beat it by 5%*
- Applies to any cheaper price found in New Zealand.
- When the competitor's final price inclusive of any taxes and delivery fees.
- Excludes Garmin products, other exclusions apply.
Check available shipping methods
Click & Collect Available
• Pick-up In-store in 1-2 days* • Only available on items already in-stock at your local store  More info »
Courier Delivery Available
• $6.99 for orders $99 & under • Free for orders over $99 • $59.99 for bikes & bulky items • Bikes will be delivered boxed More info »
PURE Endurance Formula is a premium drink base specifically formulated with real fruit, carbohydrates, mineral salts and whey protein isolate. Perfect for strenuous exercise of 2 hours and over, each resealable pouch makes 9 litres. PURE Endurance Formula contains no added preservatives, colours or anti-clumping agents. When you open a bag the first thing you'll enjoy is the amazing aroma of fresh raspberries. You'll actually see real raspberry particles in the powder. PURE Endurance Formula is refreshing and easy to consume, even during your hardest training sessions and endurance events.
DIRECTIONS: Mix 2 levels scoops (included) of powder for every 500ml of water & mix well. Consume within 12 hours of mixing. RECOMMENDED USE: 500ml - 900ml per hour during extended exercise. Up to 3.5 servings per day. Not suitable for children under 14 years of age or pregnant women. Only take in conjunction with a healthy & varied diet.
| | |
| --- | --- |
| Features: | Perfect for strenuous exercise of 2 hours and over / Contains electrolytes, sodium, potassium, magnesium and calcium / 4.2% carbohydrate content / 1g of protein per 100ml / Each resealable pouch makes 9 litres / Not sickly sweet or over flavoured / Stomach friendly |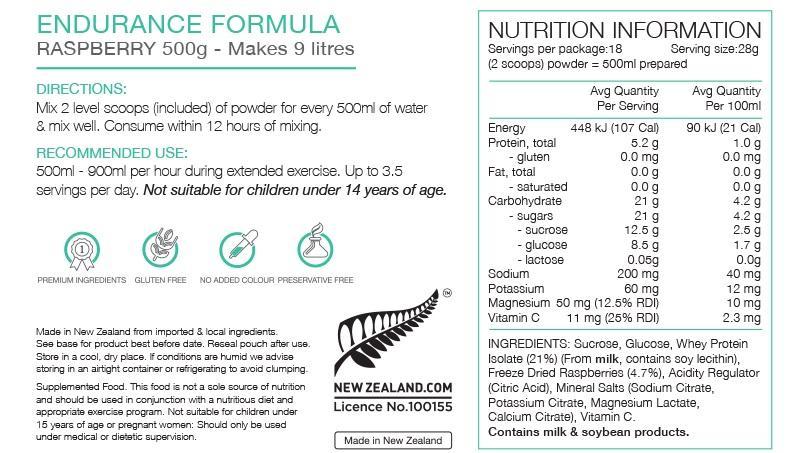 PURE Sports Nutrition was developed by brother and sister Simon & Marewa Kraak in 2012 after failing to find natural sports nutrition products.  Simon is a keen road cyclist and Marewa is a qualified Sports and Exercise Nutritionist, former New Zealand representative rower and elite road cyclist.  Both led fit and healthy lives but found it hard to get high quality, natural sports nutrition products to train and race with. The PURE Sports Nutrition range is proudly produced in New Zealand and has been designed with sports science in mind.  The PURE brand stands for high quality, natural products that work, containing no artificial ingredients or colours.  The range has grown to provide high-quality products before, during and after your workouts.