---
5% Best Price Guarantee
If you find a cheaper price, we will beat it by 5%*
- Applies to any cheaper price found in New Zealand.
- When the competitor's final price inclusive of any taxes and delivery fees.
- Excludes Garmin products, other exclusions apply.
Check available shipping methods
Click & Collect Available
• Pick-up In-store in 1-2 days* • Only available on items already in-stock at your local store  More info »
Courier Delivery Available
• $6.99 for orders $99 & under • Free for orders over $99 • $59.99 for bikes & bulky items • Bikes will be delivered boxed More info »
99 Bikes Home Delivery Available
Assembled Bikes delivered straight to your door • Available on all Bikes in Auckland & Christchurch • $29 flat rate More info »
Perfect Ride Guarantee
If you don't love it, you can swap it, up to 30 days from purchase!* Learn more »
Free Bike Build
We'll build your bike for free when you click and collect at any 99 Bikes store.
First Free Tune-up
Every bike come with a complimentary free tune-up and safety check. Learn more »
Please note, due to challenges in the product supply chain, bike specifications are subject to change without notice. Specifications listed below may not match exactly as shown in the photo.
One of the most iconic names in Freestyle BMX, the Performer is designed for both the first-time rider and former rider returning to the sport of BMX. The frame is built with modern details like a short responsive rear end, MID bottom bracket and integrated headset. Spec'd with a sealed 3/8" front hub and Pivotal saddle. This is not your dad's old Performer; GT use their decades of refined craftmanship to build their bikes with only the most modern and proven technologies, year after year. While some of the most decorated Freestyle BMX athletes have thrown their legs over a Performer since it was first development in 1984, GT stay true to its core values of a durable boundary pushing Bike with a fun-loving spirit. Rear U-brake pictured, a front U-brake is also included for the NZ market.
| | |
| --- | --- |
| Axles: | FRONT: Axle, 36h, 15mm Nut / REAR: Axle, 9T Cassette, 36 Hole, 17mm Nut Rear |
| Brakes: | Aluminum U-Brake w/ Soft Compound Pad |
| Chain: | KMC Z410 |
| Chainwheel: | GT 25T Steel Chainwheel |
| Crankset: | GT Power Series Cr-Mo 3pc., 170mm Arms, 19mm x 8T Cr-Mo Spindle, GT 25T Steel Chainwheel |
| Fork: | GT FS Design, Hi-Ten 2pc. Steerer & Tapered Legs, 31mm OffSet, 3/8" Axle Dropouts |
| Frame: | Hi-Ten Steel Tubes, DT Gusset, MID BB , Seat Stay Mounted U-Brake, Integrated 1-1/8" H/T w/ Removable Rotor Tabs |
| Frame size: | TT 20.5in |
| Freewheel: | COGS 9T 1pc. Driver |
| Grip: | GT Super Soft 155mm Single Compound w/o Flange w/ GT Removable Plug |
| Handlebar: | GT Freestyle 2pc., Steel, 8.5"H x 29"W, 3° Up, 11° Back |
| Handlebar stem: | GT Top Load, 1-1/8", Cold Forged Cap, 32mm Rise, 50mm |
| Headset: | 1 1/8" Integrated Design, 45X45 Degree Sealed Bearings |
| Hubs: | FRONT: Alloy Body, Sealed Bearings 3/8" Axle, 36h, 15mm Nut / REAR: Steel Body, Loose Ball 3/8" x 150mm Heat Treated Axle, 15mm Nut Front, Alloy Body, 1 Loose Ball, 4 Sealed Bearing 14mm x 180mm Axle, 9T Cassette, 36 Hole, 17mm Nut Rear |
| Rim: | Alloy Single Wall, 36h |
| Saddle: | GT Pivotal Padded |
| Seat post: | Alloy Pivotal 25.4 x 200mm |
| Spokes: | Stainless Steel, 14g |
| Wheel size: | 20" |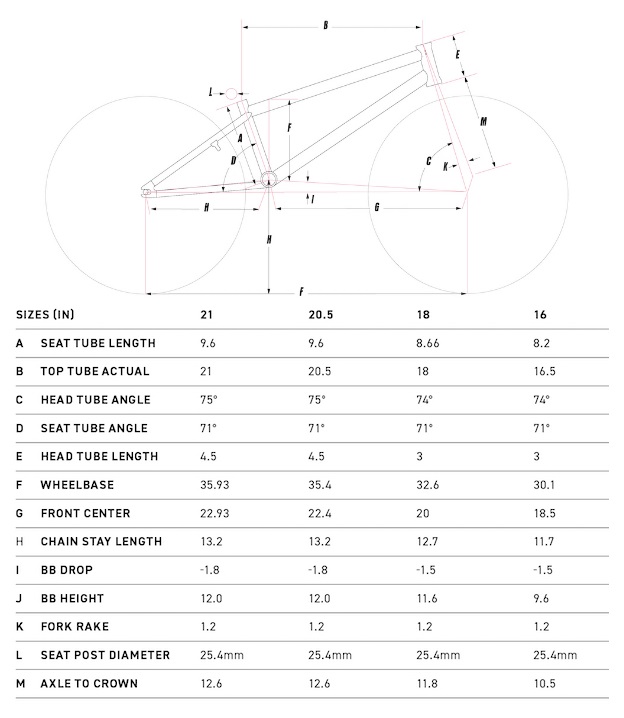 BMX 20" Wheel Bike Sizing Chart
99 Bikes proudly stocks GT Bikes. From their Southern California beginnings in 1972 to today, they continue to remain true to their BMX and mountain bike heritage. GT mixes performance with serious fun to deliver good times everywhere Bikes are ridden. Because after all, fun is serious business
, and you can't have Good Times without 'GT'!