10 Reasons why an E-Bike is Great for Summer
---
As the temperatures rise and the days grow longer, summer brings with it the perfect opportunity to embrace the great outdoors. Whether you're a seasoned cyclist or a casual rider, an electric bike can be your ideal companion for an active and enjoyable summer. E-bikes have gained immense popularity in recent years, and for good reason.
1. ENJOY THE OUTDOORS
Summer is the season to soak up the sun and embrace the outdoors. With an e-bike, you can venture off the beaten path, explore nature trails, and enjoy picnics in the park, all while experiencing the freedom of riding.
2. YOU CAN EXPLORE FURTHER AND FOR LONGER
Traditional bikes are great, but unless you're training for an endurance race, it's unlikely you'll want to spend hours in the saddle. That's where an e-bike can provide a sweet reprieve from some of the hard work. Employing the pedal assist mode lets you explore further, faster, and for longer, because you won't tire so quickly. Get out of your comfort zone and take on a journey you wouldn't normally consider because it's "too far" or "too long", knowing help is there if you need it.
3. IT'S A SOCIAL TIME OF YEAR
E-bikes are a great way to bring friends and family together for outdoor activities. The assistive nature of e-bikes helps to level the playing field among riders of different abilities, making group rides more inclusive and enjoyable. That means, even if you've not been on a bike yet this year, or grandma is joining the journey. Pack some water and a picnic lunch, and you'll be able to spend a full day exploring with your loved ones.
4. YOUR EBIKE CAN GO ON HOLIDAY WITH YOU
A lot of people take holidays over the summer, especially during the Christmas period. Having more than just the weekends free not only gives you a chance to relax and recharge but also allows you the opportunity to get out and explore. If you're heading away, you can always travel with your e-bike using bike racks for convenient and safe transport. If you're sticking around home for the holidays, grab your e-bike and explore the surrounding suburbs, bike paths, and trails. It's the perfect opportunity to be a tourist at home, find a new favourite park, or discover a great new café.
5. YOU DON'T NEED TO WORRY ABOUT BEING A HOT, SWEATY MESS
Summer is synonymous with hot, sunny days. However, with an e-bike you don't need to worry about the sweat factor! To start, you can increase your assistance level, so you don't have to exert as much energy. Then, as you cruise along, take advantage of the natural air-conditioning with the breeze on your face, cooling you down. You'll reach your destination feeling fresh as a daisy, and ready to continue the adventure.
6. IT WILL HELP REDUCE END OF YEAR STRESS
Taking your e-bike out for a spin in the summer sun is a wonderful way to destress and relieve some of that end of year pressure. Exercise has been shown to improve your mental and physical health, releasing the happy hormone, endorphins. Plus, it can also improve your cardiovascular health, increase muscle tone, and boost your immune system, so the stress is less likely to leave you run down.
7. YOU'LL BE DOING YOUR BIT FOR THE PLANET
Hot summers are great, but from the planet's perspective, scorching summers aren't. Reducing your carbon footprint is more important than ever, and e-bikes are an eco-friendly mode of transportation. By opting for an e-bike instead of a car for short trips, you contribute to a cleaner environment and reduced air pollution.
8. IT'S A GREAT WAY TO STAY FIT AND HEALTHY
Summer and the silly season often mean more socialising, Christmas parties, New Year's Eve celebrations, and general catchups with friends and family. Consequently, it can also mean more deliciously indulgent food, and less routine. Adding a couple of e-bike cycling adventures to your week is an easy way to maintain your fitness, while still having fun and enjoying something different. Keep it chill with pedal assist turned on high or get the blood pumping for a more intense workout, by setting it on the minimum level.
9. YOU COULD SAVE MONEY IN THE LONG RUN
E-bikes are cost-effective in the long run. They require minimal maintenance compared to cars, and the cost of electricity to charge them is significantly lower than gasoline. Plus, you can save on parking fees and the expenses associated with car ownership. Swapping out short car trips doesn't just create a more enjoyable, connected experience it can also save you money.
10 BEAT TRAFFIC CONGESTION
Summer often brings increased traffic, especially in tourist-heavy areas. E-bikes provide a convenient and congestion-beating alternative. You can navigate through traffic with ease and avoid the stress of being stuck in jams or take a more relaxing route down a local bike path.
This summer, consider making the switch to an e-bike for a more enjoyable, eco-friendly, and active season. E-bikes are the perfect companion for summer adventures. So, hop on an e-bike and let the warm breeze and sunshine enhance your cycling experience like never before. Get ready to ride into summer with style, convenience, and a whole lot of fun!
CHOOSE YOUR ADVENTURE WITH AN EBIKE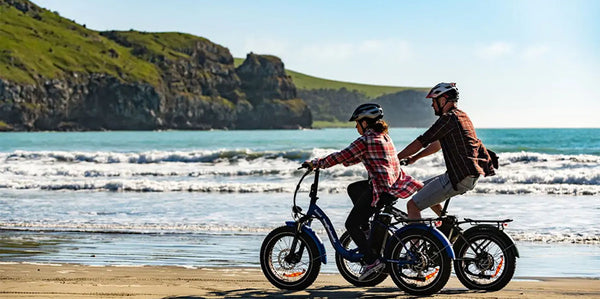 FOLDING ELECTRIC BIKES
Compact and portable, when folded these ebikes can be easily stored in a small space such as under a desk, in a closet, in the trunk of a car or even on the back over a motorhome.

Folding e-bikes are easy to use, even for those who may not have experience with traditional bikes. The folding mechanisms are simple and intuitive. This makes them a great choice for those who want the benefits of a bike without the hassle of a traditional bike. Their also versatile, often coming with wide grippy tyres and front suspension, you can take your folding ebike on bike paths and gravel roads, or to your favourite holiday destination.
HYBRID ELECTRIC BIKES
Designed as the do-it-all option casual for cyclists, hybrid ebikes cover a wide range of applications, from fitness and leisure rides to the daily commute and adventures further afield on rail trail rides.

Sometimes referred to as trekking ebikes, bikes in this category often feature comfortable geometry, with a focus on pedaling efficiency, power and speed. More suited to longer journeys and bigger hills, hybrid ebikes usually offer larger capacity batteries and motors, while still having mounting options for things like carrier racks, luggage and bike packing accessories.
CRUISER ELECTRIC BIKES
Cruise around your local area in comfort and glide up any hills in style with an electric cruiser bike. These bikes are built to be stylish, comfortable and easy to operate.

Ride down to your local beach, park or river, bring a picnic lunch and make a day out of it. These bikes offer comfortable features such as plush saddles and grips, with ample battery capacity for jaunts around town. Lower top-tubes provide easy mounting and dismounting, while mudguards ensure you can ride in any sort of clothing, and get to your destination looking as fresh as you feel.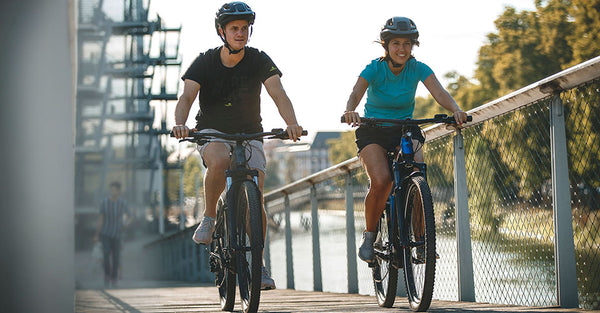 HARDTAIL E-MTB'S
Hardtail ebikes are the one of the most versatile options available, equally at home riding around your neighborhood as they are chomping singletrack.

Featuring efficient designs with trail focused geometry, hardtail ebikes are characterized by clean designs with high-capacity motors and batteries and mountain bike specific components that ensure they are extremely reliable and durable.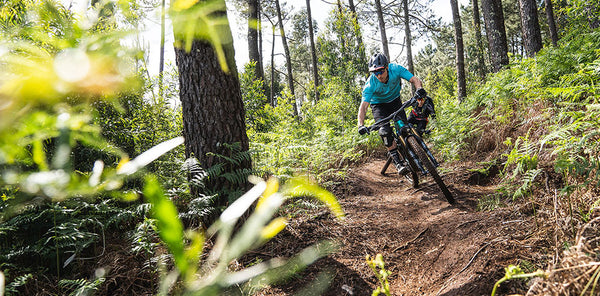 Dual-Suspension e-MTB'S
Full suspension ebikes are for riders who like to take their trail adventures to the next level, often known as all-mountain electric bikes, these beasts are built to take a beating.

The long travel front fork and the addition of a rear shock mean these bikes can tackle some seriously technical terrain, with high quality components and often the largest capacity motors available, the extra torque is perfect for making it up the steepest hill climbs, so that the rider can bomb back down and then do it all over again. But you don't need to be an expert rider to enjoy the larger battery capacities, extra plush suspension and quality components for your trail adventures.