---
5% Best Price Guarantee
If you find a cheaper price, we will beat it by 5%*
- Applies to any cheaper price found in New Zealand.
- When the competitor's final price inclusive of any taxes and delivery fees.
- Excludes Garmin products, other exclusions apply.
Check available shipping methods
Click & Collect Available
• Pick-up In-store in 1-2 days* • Only available on items already in-stock at your local store  More info »
No Courier Delivery
• This item is unavailable to be shipped with a courier More info »
99 Bikes Home Delivery Available
Assembled Bikes delivered straight to your door • Available on all Bikes in Auckland & Christchurch • $29 flat rate More info »
Perfect Ride Guarantee
If you don't love it, you can swap it, up to 30 days from purchase!* Learn more »
Free Bike Build
We'll build your bike for free when you click and collect at any 99 Bikes store.
First Free Tune-up
Every bike come with a complimentary free tune-up and safety check. Learn more »
Please note, due to challenges in the product supply chain, bike specifications are subject to change without notice. Specifications listed below may not match exactly as shown in the photo.
The 2021 Curb offers the entry-level BMX rider a bike that looks and feels like a pro model without the price tag. The 20" Top Tube makes it an ideal size for shorter adult riders approx. 5'0" – 5'5" who are entering the sport of BMX or youth who are graduating into a full-sized BMX. Featuring modern geometry and outfitted with components such as 8.75" Kink T875 bars, 3-piece tubular chromoly cranks, a raised Mission Control TL stem, soft Kink Paragon grips with push-in Kink Thrust bar ends, and 2.4" tires front and rear; the Curb is perfect for any rider looking for a solid first bike.
| | |
| --- | --- |
| Bottom bracket: | Unsealed American 19mm |
| Brakes: | Mission Cease V2 |
| Chain: | Mission 410 |
| Crankset: | Mission Triumph 3pc Tubular Chromoly 170mm - 8 Spline |
| Fork: | Kink Stryker Fork 4130 Chromoly Steerer Tapered Fork Legs |
| Frame: | 100% HiTen |
| Frame size: | TT 20in |
| Freewheel: | Mission Rank 25T |
| Grip: | Kink Paragon Grips |
| Handlebar: | Kink T875 Bar 8.75" 100% Hi-Ten Steel |
| Handlebar stem: | Mission Control TL 50mm |
| Headset: | Standard 1 1/8" Threadless Headset |
| Hubs: | Mission Function Semi-Sealed Cassette 14mm |
| Pedals: | Kink Hemlock Pedals |
| Rim: | Mission X7 |
| Saddle: | Mission Warsaw Combo |
| Seat post: | Mission Combo Steel Post |
| Wheel size: | 20" |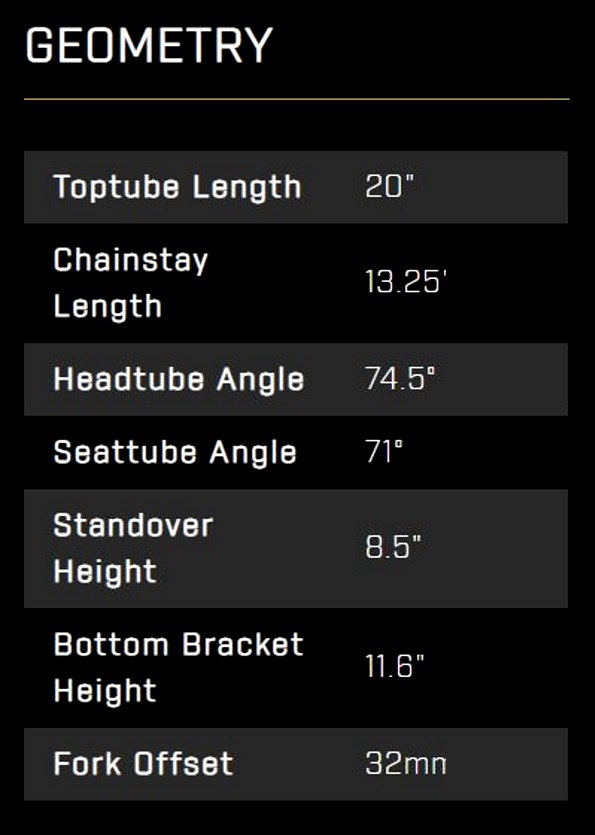 Kink 20" Wheel BMX Sizing Chart
Kink BMX has been making quality BMX products for over 25 years and has produced some of the best complete bikes in the history of BMX. Based out of Rochester New York, Kink designers are all about having a good time on their bikes and producing innovative, high-quality bike parts.