---
5% Best Price Guarantee
If you find a cheaper price, we will beat it by 5%*
- Applies to any cheaper price found in New Zealand.
- When the competitor's final price inclusive of any taxes and delivery fees.
- Excludes Garmin products, other exclusions apply.
Check available shipping methods
Click & Collect Available
• Pick-up In-store in 1-2 days* • Only available on items already in-stock at your local store  More info »
Courier Delivery Available
• $6.99 for orders $99 & under • Free for orders over $99 • $59.99 for bikes & bulky items • Bikes will be delivered boxed More info »
The Prodigy Complete scooter is the undisputed #1 freestyle scooter sold worldwide. A perfect scooter for the intermediate to advanced rider ready to progress their riding to the next level. The 2021 release has once again stepped up the game with fresh colourways and quality components. The Prodigy 6061-T6 Extruded Aluminium deck now comes with base cut out to both reduce weight and maintain performance while boasting premium finishes with high-quality grip tape. The High-Density aluminium Reaper style bars are wrapped in a two bolt 6061 Aluminium oversized clamp and TPR Hand Grips. The ALU Prodigy V2 IHC Fork is compatible with wheels up to 125 x 30mm, this complete comes rolling on 120mm x 24mm GAP core wheels with the best 86a grade Polyurethane and ABEC 9 bearings available.
| | |
| --- | --- |
| Brakes: | Bolt on Nylon Brake system, Nylon front plate and rear inserts |
| Fork: | 6 Series Alu Forged Prodigy IHC fork- Compatible up to 125 x 30mm wheels. |
| Frame: | Deck: 6061-T6 Extruded Aluminium 6 Series Alu Prodigy, angle 82.5 degrees, width 120mm/4.72", length 495mm/19.5" |
| Grip: | TPR hand grips 160mm long with nylon bar ends |
| Handlebar: | High Density Alu Reaper Style bars 620mm/24.4" high x 560mm/22" wide ( Inc Barends) |
| Handlebar stem: | 2 bolt Prodigy Clamp- 6mm bolts- Oversized |
| Headset: | Fully sealed integrated headset |
| Rim: | 120 mm x 24mm GAP wheels 86A PU- ABEC 9 bearings |
| Weight: | 3.48kgs / Total Height: 880mm, Total Length: 690mm, Foot Space: 340mm |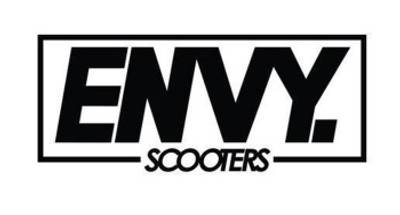 Blunt Scooters started in 2009 in Melbourne Australia. The Scooter Industry was young with only a few brands providing scooters to an ever-growing crew of young riders. Blunt Scooters started out by making aftermarket parts to fit existing complete options. In addition to 100mm Metalcore wheels, Clamps, Chromoly bars and griptape. Some of their all-time classic products included the Stripper bar, Smith bar and candy bars to name just a few. Envy/Blunt Scooters has always been known for innovative high-quality parts at an affordable price. Always pushing the sport whether it be in product design or support of riders through one of the largest ranges of Signature rider products available. Blunt and Envy scooters will continually push the research and development of their products forward for the growth of the scooter Industry and best possible scooters and parts for the demands of scooter riders across the globe.